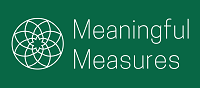 Meaningful Measures is a company that provides innovative person-centred evaluation, audit and research solutions. Their mission is to enable people's own voices to shape the understanding and improvement of health and wellbeing services around the world. Their work is founded on over 15 years of research and development of tools and research methods in the area of personalised and holistic care.
Meaningful Measures Ltd operates a licensing process for MYCaW® and MYMOP®. The company offers a free licence to all non-profit-making organisations. Profit-making organisations will need to pay a fee.
Additionally, Meaningful Measures provides innovative evaluation, audit and research consultancy solutions. The company works in an applied, pragmatic and flexible way, supporting organisations who work outside the usual biomedical structure to evidence the impact of their services in a credible and scientific way.
Address
13 Saint Mary's Park Road
Portishead
Bristol
BS20 6SN
United Kingdom